June Shannon Bio, Age, Family, First Husband, Net Worth, Movie and TV Shows
March 28, 2020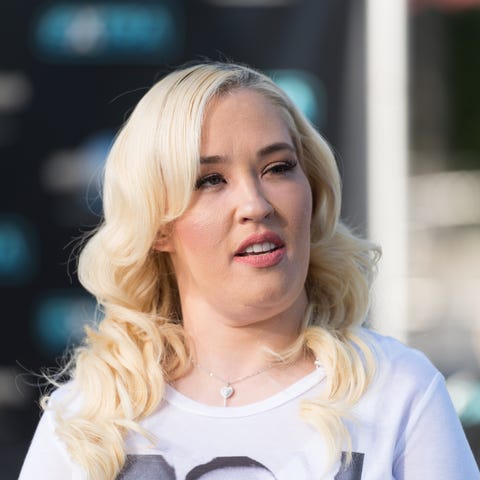 June Shannon Biography
This is what you need to know about June Shannon is an American Reality Television Personality from McIntyre Town in Georgia. Usually, she did "Toddlers and Tiaras" and "Here Comes Honey Boo Boo" TV shows. Currently, she is in police custody.
June Shannon Age
Shannon was born on August 10, 1979, in McIntyre, Georgia, United States. She is 41 years old as of 2020.
June Shannon Height and Weight
Height
Shannon stands at a height of 1.63 meters tall.
Weight
Shannon weighs 161 lbs i.e. 73 kg.
June Shannon Family
The Shannon family is an American family, its members are best known for their involvement in reality television. The family has been the center of numerous controversies.
The family first appeared on TV in 2011, when June "Mama June" Shannon and then five-year-old daughter, Alana "Honey Boo Boo" Thompson, appeared on the TLC series, Toddlers & Tiaras.
Alana's victories within the children's beauty pageant circuit coupled with her outgoing personality meant the two regularly appeared on the show and their success with audiences ultimately allowed them to have their own reality TV series, Here Comes Honey Boo Boo.
The show featured Alana's siblings, Anna, Jessica, and Lauryn, and other extended family members. Other programs featuring the family include Mama June: From Not to Hot, Dancing with the Stars: Juniors, Dr. Phil, and The Doctors.
June Shannon Family Tree
Her grandchildren include: Kaitlyn Elizabeth Clark (born July 26, 2012) is the eldest of Anna's two children, born to Anna when she was 17 years old, Kylee Madison Cardwell (born December 9, 2015) is the youngest of Anna's two children. born to Anna and her then-husband, Michael Cardwell,
 Ella Grace Efird born December 8, 2017, is the only child of Lauryn, born to Lauryn and her husband, Joshua Efird.Grandma hale Mama June's mother.
June Shannon Kylee Madison Cardwell
Kylee Madison Cardwell is the granddaughter of June Shannon and the daughter of Anna Shannon-Cardwell with husband Michael Cardwell, as well as the younger sister of Kaitlyn.
June confirmed that Kylee's and Kaitlyn's names have nothing to do with the Kardashians. She was born seven days before her due date.
June Shannon First Husband
Sugar Bear, whose real name is Mike Thompson, is the father to Mama June's daughter Alana "Honey Boo Boo" Thompson. Sugar Bear and Mama June are often at odds when it comes to their daughter, and the two have a long and unpleasant history together.
The two have tried to work through their issues throughout earlier seasons of Here Comes Honey Boo Boo, and even appeared on a season of Marriage Boot Camp: Reality Stars, but they inevitably called it quits in the end.
June Shannon Garage Sale
Apparently, June has held a sort of garage sale inside of her home. so that she can sell off her miscellaneous belongings for quick cash. This is a woman who was previously worth about $1 million.
She's been a reality star for years. Her worried fans wondered what could have happened to the poor lady for her to be selling off her own furniture just to make a quick buck.
June Shannon Gastric Surgery
Mama June weighed 460 lbs, and her BMI was clearly in the obese range. That's why she decided to go for gastric sleeve surgery. In this type of weight loss surgery, a huge part of the stomach is removed.
As a result, the patients will not be able to eat as much food as they did before the surgery. Mama June underwent surgery on her show From Not To Hot. After the surgery, she had to under other surgeries in her arms, tummy, and neck to get rid of the extra folds of skin, which are generally the aftermath of weight-loss surgeries.
She admitted that her daughters were making fun of her "turkey neck," and that's why she went for fat-freezing treatment in her neck area. But all that surgery can only work to an extent.
June Shannon Weight Loss
After undergoing gastric sleeve surgery in 2016, Shannon's stomach's sized reduced by about 75%. This has helped to reduce her caloric intake dramatically. Additionally, Mama June worked with a professional trainer named Kenya Crooks. Speaking about her weight loss, Mama June revealed that her goal was to fit into a long-sleeved, size 4 dress, which she planned to wear to her ex's wedding. And making him regret letting her go, of course.
Mama June has been able to lose a whopping 84 pounds in just three months. By the time the special aired, Shannon weighed 137 pounds (she started at 352) and looked like a completely different person. She went from a size 18 to a size 4.
June Shannon Net Worth
Shannon has an estimated net worth of $1 million U.S dollars. Her career as a television personality is the primary source of her income.
June Shannon Movie and TV Shows
2017-2019 Mama June: From Not to Hot (TV Series) …
2018 Dancing with the Stars: Juniors (TV Series) …
2015-2018 Entertainment Tonight (TV Series) …
2018 Ok! …
2013-2017 The Wendy Williams Show (TV Series) …
2015-2017 Inside Edition (TV Series documentary) …
2017 The Dr. …
2017 Extra with Billy Bush (TV Series)